Verdheleon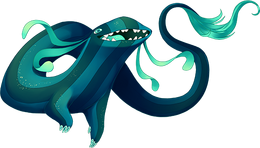 Luck
Baby: 180-220
Adult: 210-240
Hatch Time
300 minutes
(5 hours)
Energy
Baby: 100
Adult: 120

Verdheleon is a Companion.
Description
[
]
Although it can't camouflage itself like the chameleons we know, the Verdheleon is still a discreet an agile Companion. Watch out, he's a bit of a thief and could potentially cause problems.
Obtaining
[
]
Find via exploration at the Bamboo Forest (Jade Coast).
Can be purchased on the Market.
Food & Bait
[
]
They eat Speckled Crab Claws. They can be captured in the wild using a Patched Plush Bear.
Energy & Hatching
[
]
The egg hatches in 300 minutes (five hours). Their energy as a baby is 100 which goes to 120 as an adult.
Evolution Requirements
[
]
Have reached level 9
Have an Affection Level of at least 80%
Must be at least 30 days old
Gallery
[
]
Trivia
[
]
The name of the companion seems to be a portmanteau of "green" and "chameleon".
During the International Music Day 2018, the constellation of this companion could appear in the hangman game.
[

]
Companions, Baits and Food