Sitourche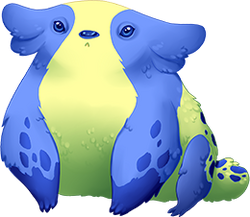 Luck
Baby: 30-70
Adult: 45-90
Hatch Time
90 minutes
(1hr 30mins)
Energy
Baby: 60
Adult: 100

Sitourche is a Companion which is related to Flubat.
Description
[
]
Less alert than its cousin, the Flubat, the Sitourche shares its teddy bear side. It's a furball filled with fur and love.
Obtaining
[
]
Find via exploration at the Woods of the Lake (Jade Coast).
Can be purchased on the Market.
Food & Bait
[
]
Energy & Hatching
[
]
The egg hatches in 90 minutes (one hour and 30 minutes). The energy as a baby is 60 which goes to 100 as an adult.
Evolution Requirements
[
]
Have reached level 5
Have an Affection Level of at least 70%
Must be at least 15 days old
Gallery
[
]
---
Trivia
[
]
Ykhar's companion is a Sitourche which is old and quite sick. It will be seen for the first time in episode 23 and it's called Mall.
Apparently they communicate with barking (as heard in episode 23).
During the International Music Day 2018, the constellation of this companion could appear in the hangman game.
[

]
Companions, Baits and Food