Plumobec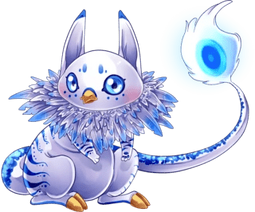 | | |
| --- | --- |
| Rarity | Rare |
| Average Luck | 102 |
Hatch Time
90 minutes
(1hr 30 mins)
Baby Energy
50
Adult Energy
120

Plumobec is a Companion.
Description
Edit
Contrary to appearances, the Plumobec is incapable of flying. Its feathers are quite useful in alchemy. Its tail serves as its system of defense.
Obtaining
Edit
Find via exploration at the Western Plain or Eastern Plain (City of El).
Can be purchased on the Market.
Food & Bait
Edit
They eat Creamy Caterpillars. They can be captured in the wild using a Feather Duster.
Energy & Hatching
Edit
The egg hatches in 90 minutes (one hour and 30 minutes). The energy as a baby is 50 which goes to 120 as an adult.
Evolution Requirements
Edit
Have reached level 5.
Have a Level of Affection of at least 70%.
Must be at least 15 days old.
In My Candy Love, during Episode 19, a Plumobec can be seen in the window of the game store.