Ornak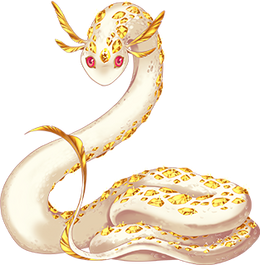 Hatch Time
300 minutes
(5 hours)
Baby Energy
90
Adult Energy
120

Ornak is a companion that first appears in Episode 23 as a Miiko's companion named Taro. Ornak was made possible to catch after Episode 30 release.
It has a connection to the item Ornak Venom.
Enigmatic and captivating, the Ornak is a mascot that could be mistaken for a work of art. The precise and exquisite touches of gold that sow his body drive most collectors completely crazy.
The egg hatches in 300 minutes (5 hours). Their energy as a baby is 90. Their energy as an adult is 120.
Have reached level 10
Have an Affection Level of at least 75%
Must be at least 30 days old
Miiko's companion is an Ornak named Taro.
Is available in exploration after the release of Episode 30.
It's location to be obtained changed from Shadowy Grove to the Snake River.
Companions

, Baits and Food
Community content is available under
CC-BY-SA
unless otherwise noted.