Greifmar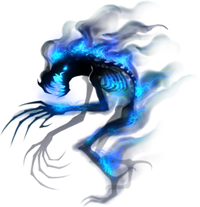 Luck
Baby: 310-355
Adult: 340-380
Hatch Time
750 min
(12,5 hours)
Energy
Baby: 115
Adult: 150

Greifmar is a Companion that was available during the Halloween 2019 Event.
Description
[
]
This specter companions populate the dreams of unstable people... rather psychopaths. They take pleasure in pushing them to the edge...
---

Greifmar, according to event's storyline, is an ancient, already extinct companion who can cause nightmares and chaos. This is why Cornelia tried to resurrect it and supposedly also succeeded to do so since Erika gets it's egg at the end of the event after defeating Cornelia.
Obtaining
[
]
Can be obtained once all the missions were completed if the player got all three illustrations and the whole outfit.
Food & Bait
[
]
Energy & Hatching
[
]
The egg hatches in 750 minutes (12,5 hours). Their energy as a baby is 115. Their energy as an adult is 150.
Evolution Requirements
[
]
Have reached level 15
Have an Affection Level of at least 90%
Must be at least 40 days old
Gallery
[
]
---
[

]
Companions, Baits and Food