Summary
On December 16th, 2016 the main administrator of Eldarya opened a thread announcing the start of the Christmas event.[1] From December 16th, 2016 to January 3rd, 2017, players had access to a new exploration map. The map had twenty different locations for Companions to explore.
Companions could find either food, bait, an egg, equipment items, or an illustration piece. If a Companion came back without bringing any clothing items, a bar underneath the map— referred to as the "second chance bar"— would progress one step. The bar would continue to fill each time a Companion came back empty-handed. Once the bar reached fifteen, the player would receive a random equipment item, after which the gauge would revert back to zero. If a companion returned with an outfit piece before the bar filled up, the bar would reset to zero. All players automatically got an equipment item upon their first exploration.
Players could also buy event items from the Clothes Shop. Some outfits could be bought with Maana or Gold Coins, while some could only be bought with GCs. There was one outfit that could only be found by exploring the map and two outfits that could only be obtained through the Clothes Shop. All outfits had different amounts of color variations.
Companions and their baits could be bought from the Companion Shop. The eggs could only be purchased with Gold Coins while the baits could be bought with either Maana or GCs.
Anything bought from either store could not be sold on the market while items found through exploration could be, not including the first equipment piece or any illustration pieces.
On the event page, players could see a blurred out version of the event illustration and any pieces of it that they had found. Pieces could be bought for 20 GCs. When all the illustration pieces were found or paid for, players had to click a button to reconstruct the illustration. Once reformed, the picture was added to that player's illustration collection. There were eight pieces in total that needed to be collected.
Map
Numerous outfit parts, as well as the new companions including bait and food could be found on the map in 20 areas.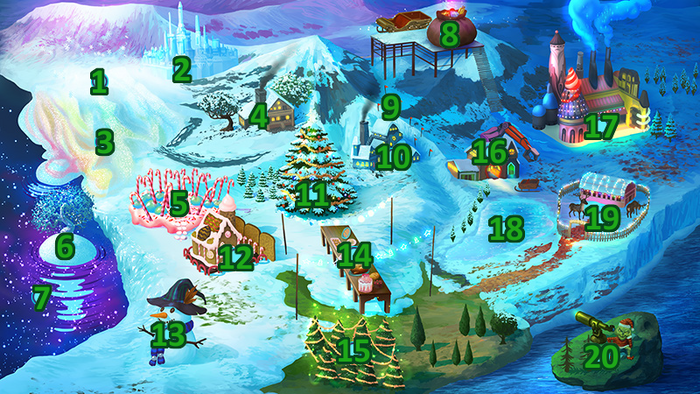 Locations
For a list of items found at these locations, see Christmas 2016 Event/Exploration Items.
#
Name
Energy
Time
(minutes)
Items
Description
1
Snowstorm
15
20
72
Boots and glasses should be worn if you want to cross this area safely.
2
Ice Queen Castle
15
25
72
Here lives the sovereign of the region. It's one of the forty-two marvels of the area.
3
Boreal Desert
10
15
94
A multi-colored desert, bring your sunglasses because it shines.
4
Claus Family Cabin
10
15
100
"We will be absent from December 24 to 25."
5
Barley Sugar Forest
10
15
126
Sweet toothed children, come here! Everything is edible.
6
Frozen Tree
10
15
64
We don't know if it's a frozen tree or ice sculpted in the form of a tree.
7
Sea of Stars
15
25
98
Legend has it that the stars, tired of being so far from the earth, decided to descend from the sky to join it.
8
Bag of Gifts in Preperation
15
20
114
Each gift placed here will be given at Christmas. Who ordered a telescope?
9
Snowy Slopes
15
20
82
Ski slopes that adapt to everyone's level for everyone's enjoyment.
10
Elf Cottage
10
15
123
If you are too cold, do not hesitate to come and warm yourself here, the elves will offer you a glass of warm milk.
11
Giant Decorated Pine
10
10
85
Remember to put out a cookie and a glass of milk for Santa on Christmas eve! He'll love it!
12
Gingerbread House
10
10
83
Don't trust the delicious odors that are coming from this house...
13
Snowman
15
25
172
A snowman made by Jack Frost... Or maybe it's him?
14
Table of Feasts
20
15
151
This was where the first Thanksgiving turkey was tasted!
15
Garland Forest
10
10
85
Globes, lights and garlands... All the trees in this forest are decorated!
16
Sled Repair Shop
15
25
183
We do not insure unicorn accidents. Please check out the Unicorn Horn Repair Shop!
17
Toy Factory
15
20
91
Tons of toys are made here each year just before being sent to good little girls and boys everywhere.
18
Frozen Lake
10
15
105
Careful, it's slippery!
19
Reindeer Stable
10
15
99
HOLIDAY SPECIAL: Check in at the front desk to enjoy our reindeer rides!
20
Grunch Island
10
15
73
We advise you not to go near him, who knows what could happen to you!
Outfits
Exploration
This outfit could only be found through exploration.
Shop
These outfits were only available in the Clothes Shop and could only be bought with Gold Coins.
Both
These are outfits that could be found through exploration or bought in the Clothes Shop for either Maana or Gold Coins.
Companion
Illustration
To get all the parts of the picture, we had to send our companions on expeditions. With luck, he brought a piece of the event picture. Alternatively it was possible to buy a part of the picture for each 20 gold .
In the picture is Valkyon with his companion Floppy, both running through a blizzard with a tree on their shoulders.
Gallery
Trivia
References
↑ [Contest] Holidays in Eldarya, Joltenrules, Eldarya
Community content is available under
CC-BY-SA
unless otherwise noted.