Chiromagnus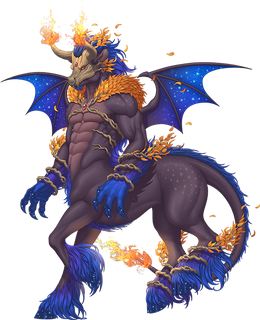 Hatch Time
90 minutes
(1,5 hours)
Energy
Adult: 160

Chiromagnus is a legendary Companion.
Description
[
]
The Chiromagnus is a legendary fellow who can be made using the alchemy minigame. The Chiromagnus is with a value of up to 390 the companion with the greatest possible luck value.
Obtaining
[
]
Made in alchemy minigame:
Food & Bait
[
]
Energy & Hatching
[
]
Like Blobby, Chiromagnus has only one developmental stage. Once hatched, the egg is fully grown. Hatching takes 90 minutes and born Chiromagnus has 160 energy.
Gallery
[
]
Trivia
[
]
Like the Blobby, the Chiromagnus has no evolution: it emerges from its egg directly in adult form.
Chiron is a centaur from Greek mythology. He is known for his great knowledge.

This word can also mean hand in Greek.

Magnus means large in Latin.
The name of this pet means either big hand or Chiron the Great .
[

]
Companions, Baits and Food