Blobbiathan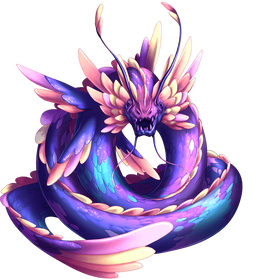 | | |
| --- | --- |
| Hatch Time | 1100 minutes |
| Energy | Adult: 170 |
Blobbiathan is a companion which was available during Summer 2019 Event. It is animated.
Description
[
]
An unstable companion which wasn't supposed to be created... It could cause a tsunami for just one box of Super Blobbydelice@!
Obtaining
[
]
In Alchemy-minigame during the event by using receipt:
1 Blobby egg
1 Blobbette egg
1 Essence of Transmutation
1 Blobbyesque Fusion potion
450 Maanas
Food & Bait
[
]
Energy & Hatching
[
]
They have 170 energy as an adult which is most amount of all companions. They don't have baby form. Hatching the egg takes 1100 minutes (18h 30min).
Gallery
[
]
---
Trivia
[
]
The appearance of this familiar is inspired by the pokémon Gyarados, known to be the evolution of Magikarp, itself known for its useless attack.
Despite the possibility of buying parchment at the market, it is only possible to make Blobbiathan once.
[

]
Companions, Baits and Food