Blobbette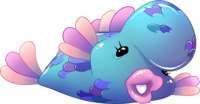 | | |
| --- | --- |
| Hatch Time | 10 minutes |
| Energy | Baby: 10 |
Store Price
180
30
Blobbette is a Companion of an unknown species. It appeared during April Fool's Day 2019 and again later the same year on Summer 2019 Event. Blobbette is animated.
Description
[
]
Blobby's soulmate is unfortunately not much more evolved than he is... But she at least has the power to stir his heart.
Obtaining
[
]
For the April Fool's 2019 Event, Blobbette egg could be found during exploration.
Buy from the Companion Shop
Food & Bait
[
]
Evolution Requirements
[
]
Have reached level 42.
Have a Level of Affection of at least 101%
Blobbette must be at least 9,000 days old.
Actual Evolution Possibility
[
]
Blobbette can be evolved into Blobbiathan by using Alchemy minigame during Summer 2019 Event. As a result Blobbette egg will disappear from inventory.
Gallery
[
]
Trivia
[
]
Blobbette has no adult form.
Blobbette is the third pet to be animated. She wriggles, surely in an uncomfortable situation.
The appearance of Blobbette is inspired by the Blobfish and the Rainbow Trout.
It is also inspired by the Pokemon Magikarp, known for its useless attack.
[

]
Companions, Baits and Food