Aurorca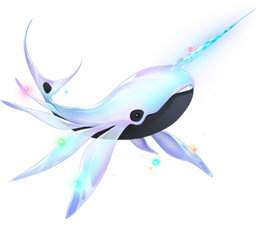 Luck
Baby: 300-350
Adult: 330-380
Hatch Time
720 minutes
(12 hours)
Energy
Baby: 100
Adult: 150
| | |
| --- | --- |
| Store Price | 450 |

Aurorca is a Companion available during Christmas 2018 Event and Christmas 2019 Event.
Description
[
]
Graceful, the Aurorcas are a sign of happiness and luck. Seeing one before the end of the year means that it will be covered with joy!
Obtaining
[
]
Can be found by exploration the Christmas map (Grunch Island).
Can be purchased from the Market.
Can be bought from the Companion Shop.
Evolution Requirements
[
]
Have reached level 15
Have an Affection Level of at least 85%
Must be at least 40 days old
Gallery
[
]
Trivia
[
]
The name of this companion is aurora and orca combined.
[

]
Companions, Baits and Food