Alcopafel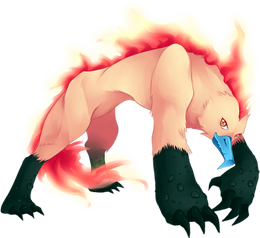 Luck
Baby: 150-200
Adult: 175-225
Hatch Time
300 minutes
(5 hours)
Energy
Baby: 80
Adult: 140
| | |
| --- | --- |
| Store Price | 350 |
Alcopafel is a Companion.
Description
The impressive physical change the alcopafels undergo causes them to lose their wings in exchange of a burning mane. They gain in weight and size, some reaching almost 7 feet tall. They are generally very protective towards their owners.
Obtaining
Find via exploration at Penguin Forest (Fenghuang Temple).
Formerly via Purreru's shop.
Food & Bait
Evolution Requirements
Have reached level 10
Have an Affection Level of at least 95%
Must be at least 30 days old
Gallery
Trivia
This companion is inspired by the manga Bakemono from the Xian-nu studio (see ChiNoMiko's post).
Navigation