Alchemy is a collection based mini-game. The game was launched on 01/30/2019 with the news "Witch's apprentices will love this...".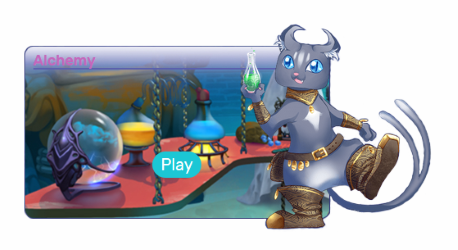 The Alchemy Lab mini-game combines a recipe scroll with ingredients and some maana to create, for example, an outfit element or a companion potion. The Alchemy Lab introduced a new outfit, "Little Alchemist" with the wig "Susan" within the release.
Alchemy scrolls can be found by exploring. Items required for an alchemy scroll can also be found during exploring or bought from the shops.
Where to find ingredients
[
]
Needed items are listed in here.
Recipes
[
]
Clothing
[
]
Rainbow Scroll
Wanted hairstyle amongst options (sacrifices the original hair)
Green, Red, Blue and Yellow colorings
80 maana
Susan (hair)
Little Alchemist Bustier
Template Draft
Coloring
Essence of Transmutation
Ripped Kappa Fabric
Frozen Volcanic Rock
Beginners Sewing Kit
50 maana
Little Alchemist Shirt
Template Draft
Coloring
Essence of Transmutation
Ripped Kappa Fabric (2)
Beginners Sewing Kit
50 maana
Little Alchemist Glasses
Template Draft
Coloring
Essence of Transmutation
Ripped Kappa Fabric
Frozen Volcanic Rock
50 maana
Little Alchemist Gloves
Template Draft
Coloring
Essence of Transmutation
Ripped Kappa Fabric
Frozen Volcanic Rock
Beginners Sewing Kit
50 maana
Little Alchemist Vest
Template Draft
Coloring
Essence of Transmutation
Ripped Kappa Fabric (2)
Beginners Sewing Kit
50 maana
Little Alchemist Flask
Template Draft
Coloring
Essence of Transmutation
Frozen Volcanic Rock
Malleable Glass
50 maana
Little Alchemist Distressed Shorts
Template Draft
Coloring
Essence of Transmutation
Ripped Kappa Fabric (2)
Frozen Volcanic Rock
Beginners Sewing Kit
50 maana
Little Alchemist Boots
Template Draft
Coloring
Essence of Transmutation
Ripped Kappa Fabric
Frozen Volcanic Rock
Beginners Sewing Kit
50 maana
Little Alchemist Body Blouse
Template Draft
Coloring
Essence of Transmutation
Ripped Kappa Fabric
Beginners Sewing Kit
50 maana
Serena (hair)
Victorian Doll Boots
Detailed Template
Essence of Transmutation
Solid Fabric
Dryad Tear
Qualified Sewing Kit
Little Alchemist Boots
100 maana
Victorian Doll Frilly Skirt
Detailed Template
Essence of Transmutation
Solid Fabric (2)
Dryad Tear
Qualified Sewing Kit
Little Alchemist Distressed Shorts
100 maana
Victorian Doll Sleeves
Detailed Template
Essence of Transmutation
Dryad Tear
Malleable Glass
Little Alchemist Gloves
100 maana
Victorian Doll Bustier
Detailed Template
Essence of Transmutation
Solid Fabric (2)
Dryad Tear
Qualified Sewing Kit
Little Alchemist Bustier
100 maana
Victorian Doll Jacket
Detailed Template
Essence of Transmutation
Solid Fabric (2)
Dryad Tear
Qualified Sewing Kit
Little Alchemist Vest
100 maana
Victorian Doll Necklace
Detailed Template
Essence of Transmutation
Solid Fabric
Dryad Tear
Little Alchemist Glasses
100 maana
Victorian Doll Telescope
Detailed Template
Essence of Transmutation
Dryad Tear
Malleable Glass
Little Alchemist Flask
100 maana
Victorian Doll Tattoos
Detailed Template
Essence of Transmutation
Dryad Tear
Coloring
100 maana
Victorian Doll Hat
Detailed Template
Essence of Transmutation
Dryad Tear
Coloring
100 maana
Octavia (hair)
Retro Adventurer Glasses
Prestigious Template
Essence of Transmutation
Reinforced Fabric
Expert Sewing Kit
Victorian Doll Hat
200 maana
Retro Adventurer Top
Prestigious Template
Essence of Transmutation
Reinforced Fabric (2)
Harmony Crystal
Expert Sewing Kit
Victorian Doll Bustier
200 maana
Retro Adventurer Crossbow
Prestigious Template
Essence of Transmutation
Harmony Crystal
Malleable Glass
Victorian Doll Telescope
200 maana
Retro Adventurer Jacket
Prestigious Template
Essence of Transmutation
Reinforced Fabric (2)
Harmony Crystal
Expert Sewing Kit
Victorian Doll Jacket
200 maana
Retro Adventurer Boots
Prestigious Template
Essence of Transmutation
Reinforced Fabric
Harmony Crystal
Expert Sewing Kit
Victorian Doll Boots
200 maana
Retro Adventurer Glove
Prestigious Template
Essence of Transmutation
Reinforced Fabric
Harmony Crystal
Expert Sewing Kit
Victorian Doll Sleeves
200 maana
Retro Adventurer Pants
Prestigious Template
Essence of Transmutation
Reinforced Fabric (2)
Harmony Crystal
Expert Sewing Kit
Victorian Doll Ruffle Skirt
200 maana
Retro Adventurer Skin
Prestigious Template
Essence of Transmutation
Reinforced Fabric
Harmony Crystal
Coloring
200 maana
Retro Adventurer Whirlwind
Prestigious Template
Essence of Transmutation
Harmony Crystal
Coloring
200 maana
Rosalynn (hair)
Lady Steampunk Coat
Perfect Template
Essence of Transmutation
Luxurious satin (2)
Retro Adventurer Jacket
Master Sewing Kit
Nugget of Gold
300 maana
Lady Steampunk Mask
Perfect Template
Essence of Transmutation
Luxurious Satin
Retro Adventurer Glasses
300 maana
Lady Steampunk Shirt
Perfect Template
Essence of Transmutation
Luxurious Satin (2)
Nugget of Gold
Master Sewing Kit
Retro Adventurer Top
300 maana
Lady Steampunk Skirt
Perfect Template
Essence of Transmutation
Luxurious Satin (2)
Nugget of Gold
Master Sewing Kit
Retro Adventurer Pants
300 maana
Lady Steampunk Belt
Perfect Template
Essence of Transmutation
Luxurious Satin
Nugget of Gold
Master Sewing Kit
Retro Adventurer Whirlwind
300 maana
Lady Steampunk stockings
Perfect Template
Essence of Transmutation
Luxurious Satin (2)
Nugget of Gold
Master Sewing Kit
Retro Adventurer Skin
300 maana
Lady Steampunk Glove
Perfect Template
Essence of Transmutation
Luxurious Satin
Nugget of Gold
Master Sewing Kit
Retro Adventurer Glove
300 maana
Lady Steampunk Scepter
Perfect Template
Essence of Transmutation
Luxurious Satin
Nugget of Gold
Malleable Glass
Retro Adventurer Crossbow
300 maana
Lady Steampunk Boots
Perfect Template
Essence of Transmutation
Luxurious Satin
Nugget of Gold
Master Sewing Kit
Retro Adventurer Boots
300 maana
Companions and potions
[
]
Small Energy Potion Scroll
Energy Pearl
Moogliz Milk x2
Royal Jelly x2
Hollowed Flask
Spicy Melon x2
100 maana
Consumables
[
]
Qualified Sewing Kit Scroll
Tuft of Moogliz Fur x3

Damaged Claw
Copper Rock
Beginners Sewing Kit
50 maana
Expert Sewing Kit Scroll
Tuft of Moogliz Fur x3

Damaged Claw
Copper Rock
Qualified Sewing Kit
50 maana
Sources
[
]
"Witch's apprentices will love this..." Daily Oracle, Eldarya USA 01/30/2019. – https://www.eldarya.com/forum/t2029,1-witch-s-apprentices-will-love-this.htm