Alajéa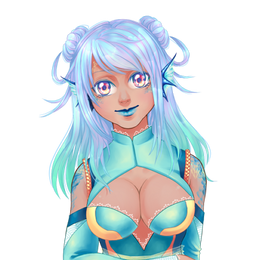 | | |
| --- | --- |
| Race | Mermaid |
| Gender | Female |
| Birthday | 15th January |
| | |
| --- | --- |
| Hair Color | Blue-green |
| Eye Color | Pink |
| Height | 153 cm = 5 feet |

Alajéa is a mermaid that always carries a potion on her belt to keep her legs. Kind in nature, her head is often in the clouds. She is a member of the Absynthe Guard.
Appearance
[
]
Alajéa in her human form has dark skin, long blue-violet hair that degrades to blue-green, and pink eyes. Her ears are replaced by fish appendages, and her chest is well-developed. Her outfit is a combination of greens and golds in blue tones, which can be explored levels of the shoulders and thighs. At these places you can see dark blue scales. It also has several gold cords provided with pink crystals and small spheres with fish. On her left thigh, she wears a potion vial that allows her to transform.
Personality
[
]
Always happy, Alajéa is a young adolescent who perfectly assumes her "dim-witted" side, which makes her quite endearing. Not very talented when it comes to completing missions that Ezarel gives her, she is quite good at consoling or taking care of children.
Seems to say whatever she can to people in order to "befriend" them. During Episode 6 she tell Miiko that she believes you went to far. Later in the episode after you show her the room she states that she agrees with you.
Relationships
[
]
Colaïa
[
]
When Alajea lost her parents to Kraken, she got separated from her little sister and thought she died as well. The two met each others again years later, in Episode 15 when she strayed to the Guard's water areas. Colaia was very feral at first but Alajea taught her to get used to other people again and the two regained their close relationship.
Karenn
[
]
Karenn is her best friend and best partner to gossip with.
Ykhar
[
]
Alajea and Ykhar were close friends.
Trivia
[
]
The first version of Alajéa was rumored to be created to honor someone named Sally-Anne. She was a colleague that ChinoMiko worked with on Amour Sucré. In this version her name was Sylanne. She had blonde hair with white skin and blue eyes. Sylanne was one of the first characters to be revealed before the French site's launch. 
Alajea has no companions, because she is forbidden to have one.
Has a traumatic experience with water, to the point where she wishes she was born with human legs.
She is good at water potions.
Her best friend is Karenn.
Alajea is interested in Nevra.